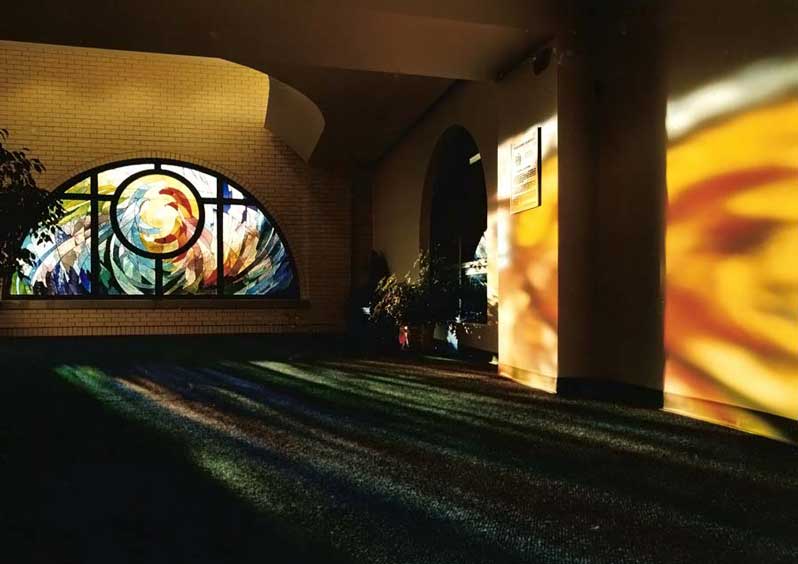 Upcoming Events
From Spain to us, from us to you:

Maestro Soler
Poet of the guitar

He will delight us all on
Friday, Sept. 19, 2014
7:30 p.m. at the Ethical Society 9001 Clayton Rd., St. Louis, MO.

Maestro Soler brings his guitar,
The Golden Polyphemus,
to create and share
the genius of his music.
Maestro Soler…
the new kind of guitar feeling
Join us!

Listen to Kathy Lawton Brown's radio interview with Maestro Soler on RAF 107.3 FM on September 16, 11 a.m.

Ticket info:
General Admission $20
Students $15
Senior Citizens $15

Tickets may be purchased at http://maestrosoler.brownpapertickets.com
Terry or Lea 314-535-0845
Or at the Ethical Society the evening of the performance.

Enjoy the concert!
Glass
Throughout the centuries artists have molded light through leaded glass to teach and to mystify. Artists today use this ancient material and technique also as an art form, which can complement contemporary as well as traditional architecture. Painting, firing (i.e. staining) and etching are techniques that enlarge the range of expression for the artist using leaded glass. In creating a three-dimensional shape, typically lighted from within, the copper foil technique serves as a strong and lightweight alternative to the lead came technique.
As a transparent medium, glass presents a challenge and a reward unequaled in media utilizing reflective light. The sun, the supreme source of power and light, is ever changing. The artist cannot control daylight nor background disruptions. These elements, and also structural considerations, must enter the artist's creative consciousness. The artist must respond to each situation on an individual basis.
In addition to the aesthetic potential offered by glass, it can also be used to satisfy more utilitarian ends, such as to:
cover artificial lighting of interiors,
obscure a view or frame a view,
enhance an oddly shaped window,
display a house number,
divide rooms,
screen fireplaces,
communicate, inspire, and commemorate.
Techniques
Staining, etching and fusing are additional techniques that expand the scope of the leaded glass. We also have full repair and restoration capability.
Stained glass requires the application of various metal oxides that when fired bond permanently with the glass. The colors are browns, black, grey-green, and brilliant yellow. The powdered oxides are mixed with various media (depending on the desired effect) and applied to the glass. Different metals result in different colors when fired. Two aspects of staining are the tracing and the matte. Tracing is a sharp, dark line applied with a brush. Matte is a thin even coat of stain over the entire piece that is allowed to air dry and then is stippled away to create soft shaded contours. In these examples, I painted and fired the frog on the clear cathedral glass with stains and enameled in a second firing. I stained the blue frog on green glass flashed over clear, and then etched away the green where the frog is before enameling with a different color.
Enamels are powdered colored glass and offer a wider range of color than do the stains. They are best used in small doses in combination with the stains.
Etched glass can be done by either of two techniques: acid or abrasion. Our studio uses abrasives. In this method, we place a rubbery mask over the entire piece and cut away the mask in the area to be etched. We achieve a shaded effect by removing successive parts of the mask and sandblasting edges only, as in this photo of the St. Francis of Assisi windows.
Fused glass is different pieces of glass melted together under intense heat, and then annealed. It requires glass that has been tested for compatibility. The differing mineral content of the various colors of glass alter its expansion/contraction coefficient as it goes through temperature stress. We used tested compatible glass from the Bullseye Glass Co. for the panels in the cabinet shown in this photo.
Use of other features such as beveled glass, glass jewels, and glass globs add another dimension to the artwork. Beveled glass requires zinc reinforcement in the construction due to the added weight of the glass.
Cost
Due to the many variables in creating original custom stained glass, cost varies with each piece. Some of the factors that contribute to the cost include:
Design detail, i.e. the number and shape of the pieces. A design that has numerous curved pieces will be more costly than a design with few straight peices.
Type of glass. Imported handmade, domestic, machine made, and particular colors are priced differently.
Square footage and dimensions.
Special additional treatment. Painting and firing (i.e. staining), etching or use of jewels, rondels, or beveled glass usually increases cost.
Lea E. Koesterer
Bachelor of Fine Arts, University of Dayton

Principal Artist
As part of my college education I spent a year in Venice, Italy. The immediate proximity of the fabulous mosaics captured my spirit. To my good fortune, world famous Lucio Orsoni* has his studio in Venice and I was able to study mosaics under his superb tutelage. I was trained in the classical Italian style using small tesserae of stone or glass.
After graduation from college my interest in mosaics remained keen, but glass captured my attention and I diverted into a kindred art form, stained and leaded glass. Although glass dominates my portfolio today, I continue to work in both media.
Architects, designers, and repeat clients encourage me in the belief that my work is appreciated by a wide variety of people. It has also provided me the opportunity to develop versatility in design capability. The awards I have earned from my trade organization tell me that my work is technically excellent as well as aesthetically successful. My work has been published in recent years in St. Louis Commerce Magazine, March 2001, Ministry and Liturgy, November 2001, and National Catholic Reporter, December 2001.
I seek to always contribute to a beautiful and harmonious environment. I believe I am called to be productive in this way. When I create artwork for clients, I focus on what it is that the client wants to communicate through the artwork. The result should be a reflection of the client's spirit as channeled through my hands.
*Lucio Orsoni is the principal mosaicist at the Angelo Orsoni Mosaic Studio, which is producing the mosaics for the Sagrada Familia in Barcelona, Spain.

Terry F. Werner
PhD in Biology, St. Louis University
Secretary, General Assistant
Services
custom design
repair/restoration
gallery sales
Contact Lea Koesterer
Phone: 314-535-0845
Email: lea.koesterer@lkglassandmosaicart.com
Artist's Statement

We each have our private journey, yet each is part of the grand continuum. I stand, as an artist, as the interface between the viewer and nature's door, inviting all to notice and to bask in her boundless beauty and splendor, kinetic energy, or harmony. The physical world informs me. My creative world transforms me. I hope to transform others as well.

With stained and leaded glass, I use contemporary cutting and leading techniques in this ancient art form to assemble colors and sparkle that will emerge and grow with the light. Expertise in the techniques of staining, fusing, and etching contributes additional possibilities. My artwork can be projected into the dark space of a room or of a person's life and grow there too. It becomes multiplied. It lives. It is a daily drama that comes alive with light, and changes as light changes. It describes the ephemeral as the light fades each day at sunset. It retains textural import even with minimal light. Art glass grabs a bit of immortality as a permanent medium. Even so, it swims into the room as it is reborn with the light.

Stone is a permanent medium solid enough to stand upon. Indeed, mosaics have survived and remained vibrant for millennia. I began in Venice, Italy, making Roman style mosaics under the tutelage of Lucio Orsoni; each tiny stone formed for its specific place. Elements of the earth lie dormant, waiting for someone to see their beauty; waiting for me to bring it forth. I gather and dress fragments of marble, granite, pebbles, seashells and other things for assembly into a coherent message, putting order to chaos. I make mosaics, both sculptural and two dimensional which will remain on earth much longer than I do.


Ideas are constantly simmering in my subconscious and my waking dreams. They percolate into my consciousness and impel me to express them. It is my calling.
Mosaics
Because a mosaic is comprised of many pieces, the light reflecting from its surface is broken up, resulting in a luminous texture and sparkle. Mosaic applications are many and varied, including floors, signs, tabletops, and three-dimensional sculptures.
Most commonly, mosaic is used for pavement: porches, patios, and floors. Floors are best made with the more durable of materials: granite, marble, porcelain and other ceramic tile. Keep in mind that the viewer is standing on the artwork. Most often the viewer is between 5 or 6 feet away from it and the art is seen at an oblique angle.
Vertical surfaces, such as exterior signs and walls, and sculptural forms require different techniques of installation and can incorporate more fragile materials such as glass or seashells. The brilliantly colored glass tesserae, called smalti, are most often used for walls or sculptural pieces. Pebble mosaics offer diverse applications.
Techniques
Our studio cuts stone in either of two ways, wet saw or hewn by hand. We use the wet saw on larger pieces. Pieces that are 1 cm. or smaller are hewn by hand. In making glass mosaics we use a combination of glasscutter and nippers. In either case, stone or glass, other materials can be incorporated as well: pebbles, seashells, or found objects.
Cost
While every mosaic has individual attributes that determine cost, in general a composition with many small pieces will be more expensive than something with fewer larger pieces. The ancient Roman technique of the 1 cm tesserae is labor intensive, but the materials will cost less than work that requires large uncut sections.
The manner of installation affects price as well. Dry setting, used for exposed patios and porches, will be less expensive than setting into a concrete bed with grout. The cost must be estimated individually for each custom mosaic.
Close